Hackweek 16 (0x10)
I spent the previous Hackweek with Cucumber and YaST. It worked quite well but it turned out to be too big step forward and focused on one specific testing framework.
This time I decided to make a smaller step, but make the solution more generic. So instead of having direct Cucumber support in the UI I proposed implementing a generic REST API. The API can be then used by any framework (Cucumber, RSpec…) or it can be used directly by any script or tool.
See also the Hackweek project page.
Implementation
The current solution is based on these two key libraries:
Both libraries are already included in the openSUSE distributions so it is easy to use them.
Installation
After compiling and installing new libyui, libyui-qt and recompiling yast2-ycp-ui-bindings (because of ABI changes) you can run any YaST module with YUI_HTTP_SERVER=14155 environment variable set. Then you can access the REST API via the port 14115 using curl command. (You can use a different port number.)
Using the REST API
Run the YaST repository manager (as root):
YUI_HTTP_PORT

=

14155 yast2 repositories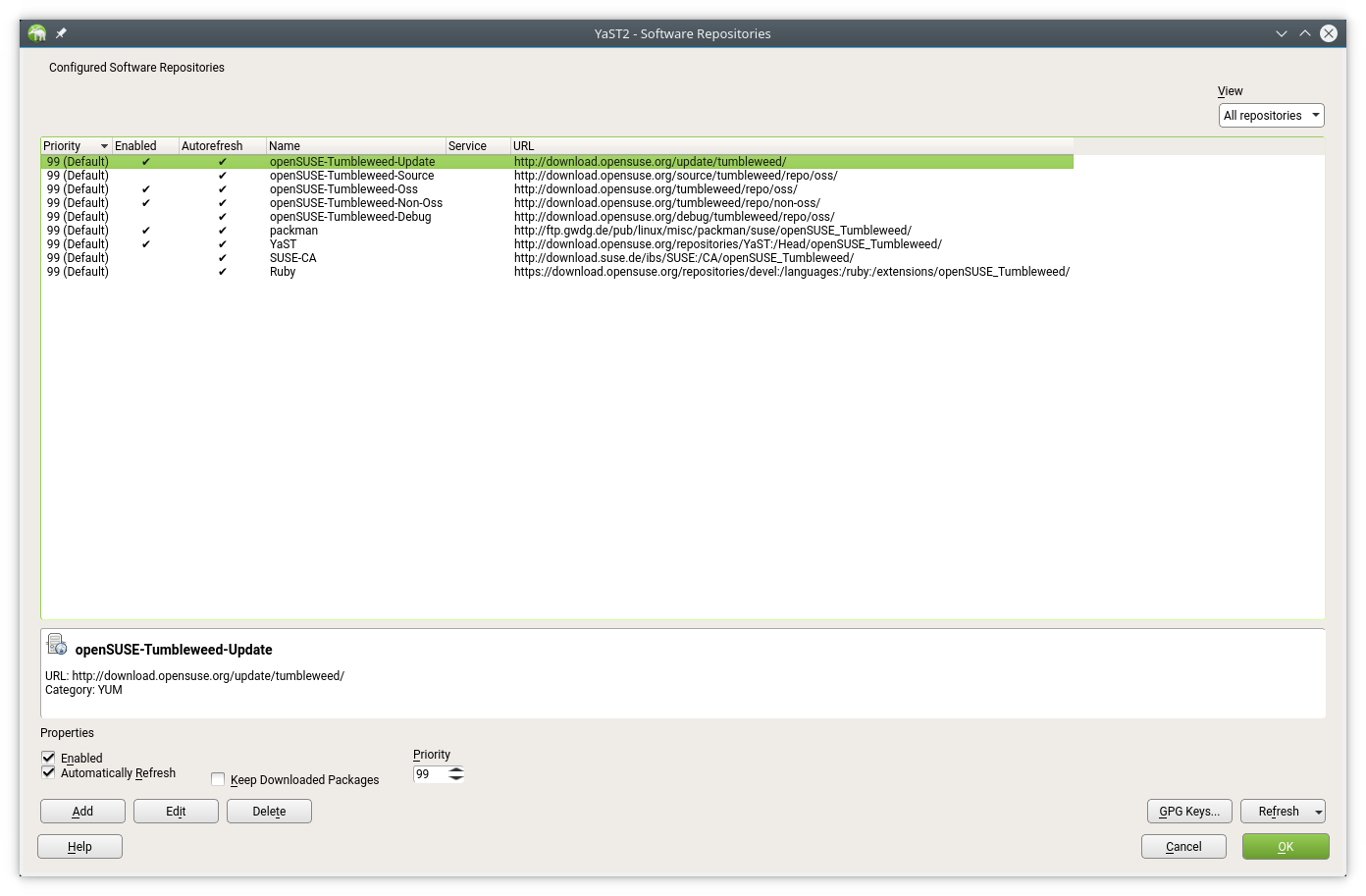 This will start the YaST module as usually, there is no visible change. You can normally use the module, the only change is that the UI now listens on the port 14155 for incoming HTTP requests.
You can access the REST API (root not required) from command line like this:
>

 

# dump the current dialog as a tree




>

 curl 

'http://localhost:14155/dialog'




{
  "class" : "YDialog",
  "hstretch" : true,
  "type" : "wizard",
  "vstretch" : true,
  "widgets" : 
  [
    {
      "class" : "YWizard",
      "debug_label" : "Configured Software Repositories",
      "hstretch" : true,
      "id" : "wizard",
      "vstretch" : true,
      "widgets" : 
      [


...


>

 

# dump the current dialog as a simple list (easier iteration, search)




>

 curl 

'http://localhost:14155/widgets'




[
  {
    "class" : "YDialog",
    "hstretch" : true,
    "type" : "wizard",
    "vstretch" : true
  },
  {
    "class" : "YWizard",
    "debug_label" : "Configured Software Repositories",
    "hstretch" : true,
    "id" : "wizard",
    "vstretch" : true
  },


...


>

 

# filter widgets by ID




>

 curl 

'http://localhost:14155/widgets?id=enable'




[
  {
    "class" : "YCheckBox",
    "debug_label" : "Enabled",
    "id" : "enable",
    "label" : "E&nabled",
    "notify" : true,
    "value" : true
  }
]


>

 

# filter widgets by label (as displayed, might be translated!)




>

 curl 

'http://localhost:14155/widgets?label=Priority'




[
  {
    "class" : "YIntField",
    "debug_label" : "Priority",
    "hstretch" : true,
    "id" : "priority",
    "label" : "&Priority",
    "max_value" : 200,
    "min_value" : 0,
    "notify" : true,
    "value" : 99
  }
]


>

 

# filter widgets by type (all check boxes in this case)




>

 curl 

'http://localhost:14155/widgets?type=YCheckBox'




[
  {
    "class" : "YCheckBox",
    "debug_label" : "Enabled",
    "id" : "enable",
    "label" : "E&nabled",
    "notify" : true,
    "value" : true
  },
  {
    "class" : "YCheckBox",
    "debug_label" : "Automatically Refresh",
    "id" : "autorefresh",
    "label" : "Automatically &Refresh",
    "notify" : true,
    "value" : true
  },
  {
    "class" : "YCheckBox",
    "debug_label" : "Keep Downloaded Packages",
    "id" : "keeppackages",
    "label" : "&Keep Downloaded Packages",
    "notify" : true,
    "value" : false
  }
]


>

 

# and finally do some action - press the [Abort] button and close the module,




>

 

# you can use the same filters as in the queries above




>

 curl 

-X

 POST 

'http://localhost:14155/widgets?id=abort&action=press'



To make it cool I have included some inline documentation or help, just open http://localhost:14155 URL in your browser: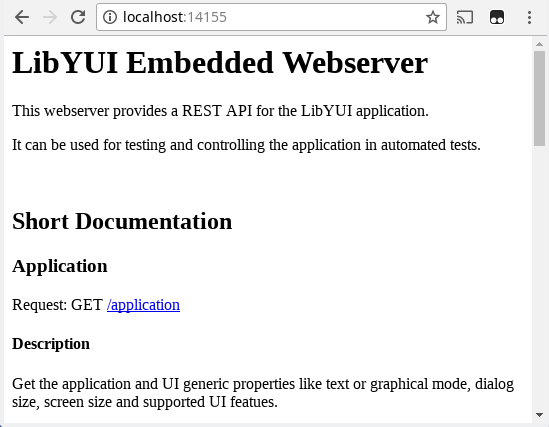 Running a Cucumber Test
I have also written a simple set of step …